GOOD HOUSING NEWS IN HAMPTON ROADS
Published On: August 10, 2012
First, the good news. With 1,164 homes sold in the region last month, Hampton Roads' housing sales are up 87 percent from November 2008, according to the Real Estate Information Network Inc., the local multiple listing service.
Now let's temper that: The competition among sellers is fierce, with an inventory of almost 12,979 houses in November, REIN reported.
..........................................
Home prices in South Hampton Roads could finally have hit bottom, a report released Wednesday suggested.
For the first time in 16 months, the median price of an existing home in the region rose in March compared with the same month a year earlier, according to Real Estate Information Network, a Virginia Beach-based multiple-listing service.
The median price for a home was $180,000 last month, up 2.9 percent from March 2011, the service reported.
The median is the point at which half of all sales were for higher prices and half lower. Until last month, year-over-year median prices had not risen in South Hampton Roads since November 2010.
However, an economist at Old Dominion University cautioned that it's too soon to tell whether last month's prices were a blip or the beginning of a trend. 
Also, a report released today shows that foreclosure filings fell to a three-month low - more good news for a local housing market struggling to gain solid footing.
Lenders issued 790 foreclosure-related notices last month, down 15 percent from the 929 issued in February and down almost 39 percent from the 1,290 reported in March 2011, according to RealtyTrac, a foreclosure-monitoring service based in Irvine, Calif.
Foreclosures in Hampton Roads and across the country have been declining for most of the past year, a sign that the problem might be easing. However, some real estate experts predict more troubled properties to be pushed through the foreclosure pipeline later this year.
Declining foreclosure activity is not an indication that the problem of distressed properties across the country has disappeared, Brandon Moore, RealtyTrac's CEO, said in a news release. He said lenders have yet to make it through the backlog of delinquent loans.
In Hampton Roads, foreclosures fell in nearly every major city with the exception of Suffolk, where activity more than doubled from the previous month. Portsmouth continued to have the highest percentage of homes that received a foreclosure filing, according to the report.
The uptick in sales prices last month occurred despite a steady volume of sales of foreclosures and distressed properties, which accounted for 33.5 of all sales in Hampton Roads, the multiple-listing service reported.
By Josh Brown
The Virginian-Pilot
©April 12, 2012
................................................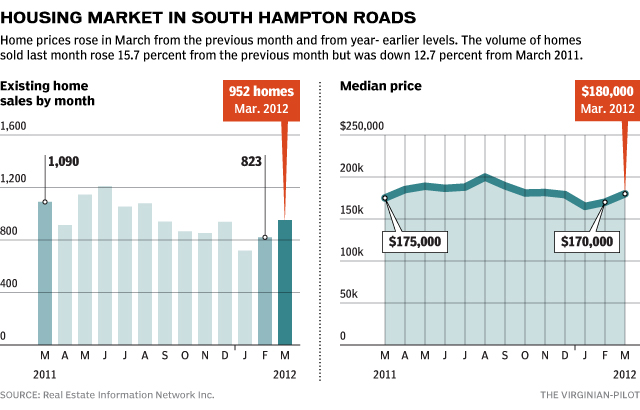 ---